Our coworking communities are hand-crafted and programmed to elevate lifestyle and performance. The environment in which you surround your team should be strategic to your business objectives.
The Kiln Cabin, a new retreat at Sundance Mountain Resort, is now open to Kiln members.
Read more
Lehi, UT
Situated on Silicon Slopes, Kiln Lehi is a tech-oriented flex-office community in the center of the Wasatch Front.
Embed your team in the center of Utah's tech ecosystem, seconds from I-15 access and minutes from Corner Canyon, some of Utah's best mountain biking trails.
Salt Lake City, UT
At the heart of the Mountain West, Kiln Salt Lake City is a boutique workspace community designed to elevate lifestyle and performance.
Grow your team only 15 minutes from Salt Lake City's newly renovated international airport and steps away from the Vivint Smart Home Arena, Frontrunner (commuter train), and notable downtown eateries.
Park City, UT
Crafted for the outdoor enthusiast, Kiln Park City's flex-office community facilitates a blend of life on the mountain and in the office.
Grow your team where unmatched outdoor recreation and acclaimed international arts converge.
Meridian, ID
Acting as Kiln's largest single location, Kiln Meridian's flex-office community is a beacon of inspiration designed to gather the brightest minds of the greater Boise area.
Located at the corner of I-84 and Eagle Road, Kiln Meridian is pioneering the future of work with a blend of productivity, lifestyle, and community.
Boulder, CO
Located on iconic Pearl Street, Kiln Boulder's flex-office community strikes the perfect balance between mountain-living and the office.
Embed your team into a collaborative and thriving community where you will benefit from the rich set of amenities including a theater, podcast room, and 360° cafe.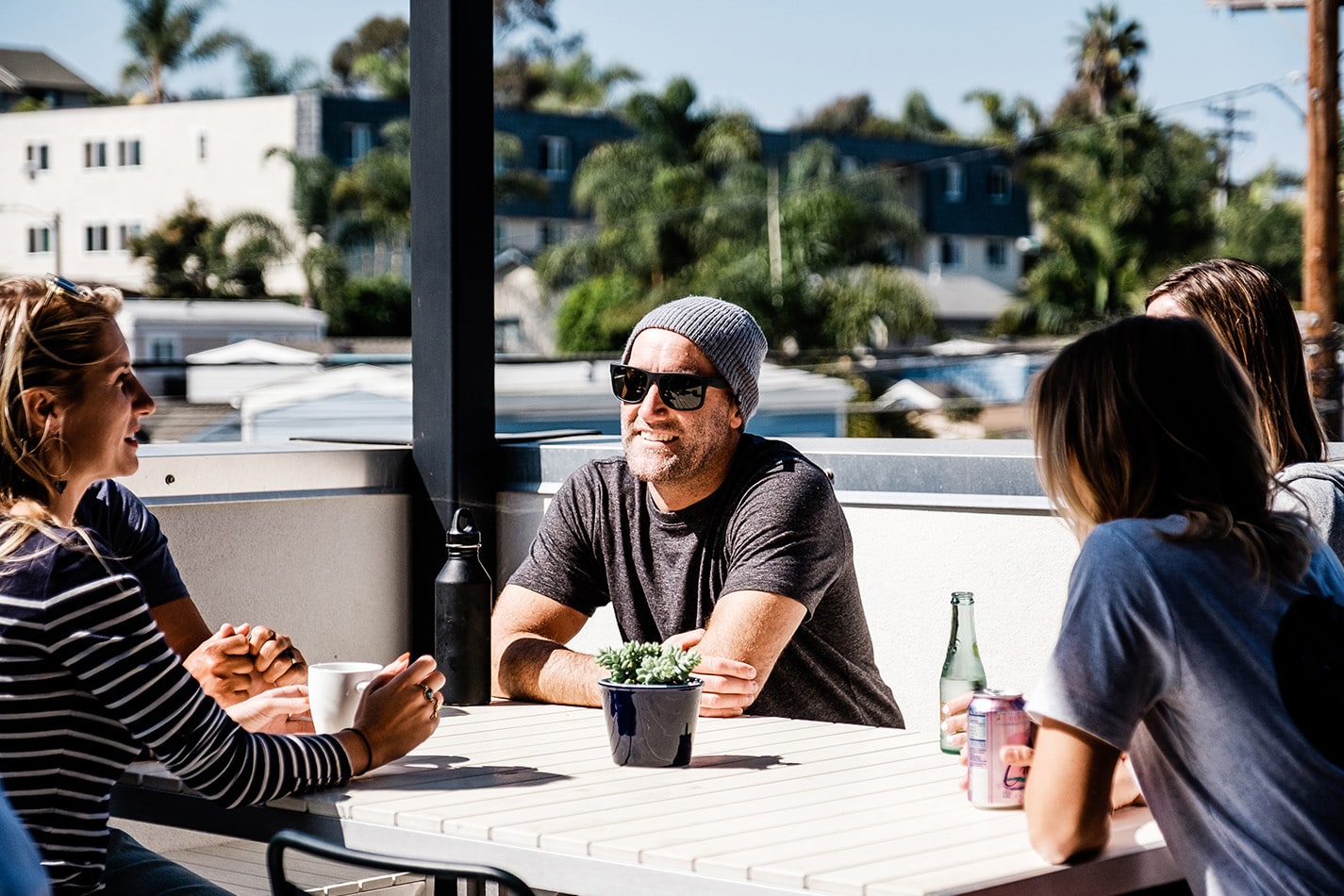 Leucadia, CA
Nestled between some of the most beautiful beaches on the west coast, Kiln Leucadia's coworking community embodies the true spirit of Southern California culture.
Placed directly on the 101, discover a community that is just as passionate for Southern California living as they are for their life's work.
Carlsbad, CA
From boutique shopping to Michelin Star dining, Kiln Carlsbad's flex-office community is embedded in the perfect blend of the work and lifestyle.
Designed with community at the forefront, Kiln Carlsbad is the perfect opportunity for you to embed your team in one of California's most welcoming, cultured, and accessible beach towns.
Solana Beach, CA
Just minutes by foot from Fletcher Cove Beach Park, Kiln Solana Beach's flex-office community truly embodies the heart and soul of the Pacific.
Equip your team with a truly turn-key Southern California experience that elevates performance, lifestyle, and culture.
Portland, OR
Kiln Portland merges work and lifestyle, enhances performance, and inspires creativity in its members. The 36,000 sq ft facility is located in Southeast Portland, on the iconic Madison Avenue.
Membership includes access to private work studios, conference rooms, a podcast and recording studio, theater space, wellness studio, food and beverage offerings, and a diverse programming calendar including networking, wellness, and lifestyle events.
Provo, UT (Coming Soon)
Designed and built from the ground up, Kiln Provo's coworking community merges the strength of nearby University resources with a rich mountaineering lifestyle.
Coming 2023, experience a groundbreaking milestone for coworking as Kiln Provo becomes the first flex-office space to have been completely designed and built entirely from scratch.
Gilbert, AZ (Coming Soon)
Kiln Gilbert is a boutique flexible coworking space designed to gather and inspire the brightest minds of the East Valley.
Coming late fall 2023,  Kiln Gilbert offers a flexible coworking space that empowers teams of all sizes, from 1 to 100. Our fully furnished and handcrafted environment features unique gathering spaces, event theater, fitness area, AV equipped conference rooms, a podcast studio, refresh rooms, and a supportive and thriving community hosting a robust calendar of networking and wellness events.
Workspaces Designed to Elevate Performance
Community for creatives, freelancers, and the remote
Elevate your experience beyond the coffee shop or home office, join an all-inclusive workplace community of like-minded professionals.
Lockable, furnished office space to call your own
Space as dynamic and creative as your business. A fully-furnished environment where your team can focus, perform, and be well.
Fully-equipped office space for enterprise teams
Introduce financial and operational agility into your workspace solution. Branded and customizable to leave an impression.
Community Teams
Community Team, Park City
Our local teams are an extension of yours. We hire passionate and detailed individuals who personalize your day-to-day Kiln experience.
Integrated Design
Club Desks & Bunkettes, Boulder
Led by Co-Founder Leigh Radford, our London-based design team has developed 20+ furniture products, from our paneling system to our video pods.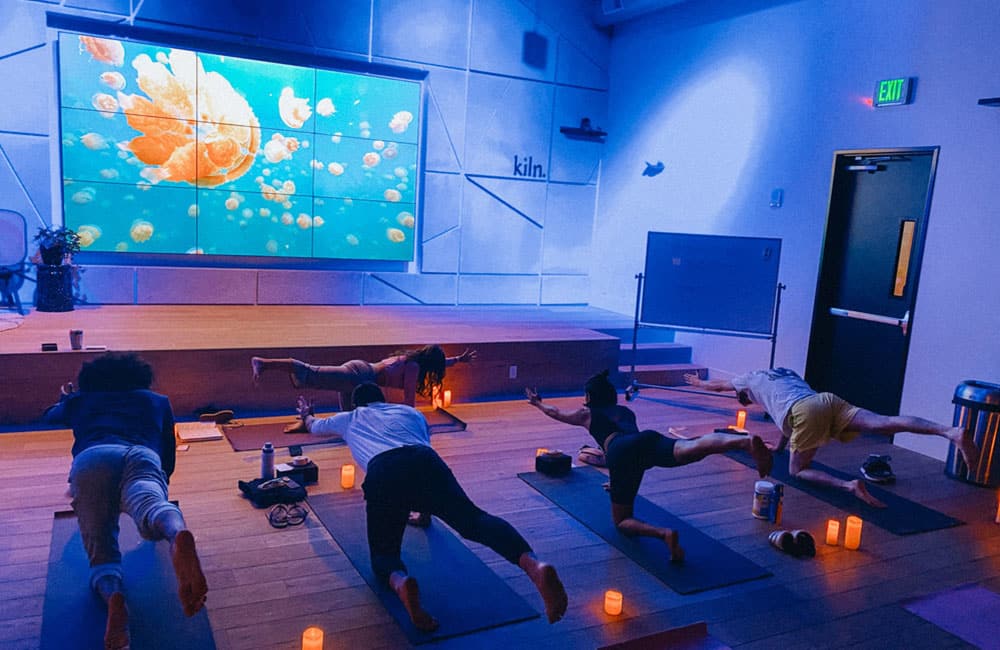 Wellness Programming
Yoga & Mindfulness, Salt Lake City
Let us help make you whole through sound bath meditation, yoga, social gatherings, as well as healthy snacks and drinks.
Biophilic Spaces
We incorporate nature into our workspace environments, because we believe in the life it breathes and the life it represents.
Community Events
We position each of our communities at the center of the ecosystem to facilitate knowledge sharing and networking. Come experience the 100+ events we host each month.